RoboBots 2007
Previous years photos & results: 2023 | 2022 | 2021 | 2020 | 2019 | 2018 | 2017 | 2016 | 2015 | 2014 | 2013 | 2012 | 2011 | 2010 | 2009 | 2008 | 2007

Tool City RoboBots
Saturday, May 5, 2007
Meadville Area Senior High School
Special Order your RoboBots video directly from Armstrong!
Results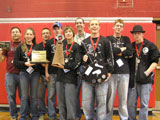 First Place
Maplewood High School
Bot Name: Stingray 5000
Team Name: Spin Masters
Team Members: Ashley Briggs, Michael Murdoch, Lawrence Mailliard, Matt Hollabaugh, Jeff Judd, Mike Brink, Zach Hayes, Zack Allen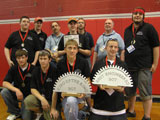 Second Place
Crawford County Vocational Technical School (CCVTS)
Bot Name: Warmeggedon
Team Name: CCVTS AM
Team Members: Roy Nahoy, Andy Sturzebecher, Derek King, Jon Wright, Jamie Hill, Derek Hustek, Jacob Cencants, Cody McDonald, Channing Jones, Jacob Munrz
King of the Ring
Crawford County Vocational Technical School (CCVTS)
Bot Name: Warmeggedon
Team Name: CCVTS AM
Best Engineered
Crawford County Vocational Technical School (CCVTS)
Bot Name: Warmeggedon
Team Name: CCVTS AM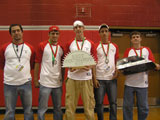 Best Sportsmanship
Conneaut Valley High School
Bot Name: X
Team Name: Xers
Team Members: Michael Leonard, Kyle Welker, Joe Michaud, Alex Strange, Mitch Shreve, Dave McMillian, Rob Boblenz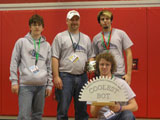 Coolest Bot
Saegertown High School
Bot Name: Pure Destruction
Team Name: Team Destruction
Team Members: Jordan Gilmore, Joshua Jarrell, Brandyn Reynolds, Andy Lybarger, Blake Doctor, Ethan Curley, Seth Johnson, Zach Barnes
Participating Schools:
Meadville Senior High
Conneaut Lake
Conneaut Valley
Cambridge Springs
Saegertown
Titusville
Crawford County Vo-Tech
Mercer County Career Center
Maplewood
PMI
What is RoboBots?
RoboBots is an educational program created by the producers of the wildly successful BattleBots television series (in which homemade, remote controlled robots face-off in competition). As the television show grew in popularity, so did the number of student fans who wanted to build competitive robots of their own. It soon became evident that this activity, the sport of robots in competition, had the unique potential to impact middle school, high school and college students in a powerful and positive way. Through the process of robot building, student's imaginations are captured as they design, build and compete with their own robotic creations; and through this hands-on effort students gain practical knowledge of math, science, engineering and manufacturing.
In 2006, local industry and NTMA representatives in Northwestern PA came together to develop RoboBOTS, the educational program comprising of robotics curriculum, mechanical engineering methodology, and teacher training. The unique partnership between students, teachers, and industry representatives builds valuable industry-school links by helping competitors engineer a lean, mean, fighting machine. Everybody wins, regardless of the result in the arena. In 2010, RoboBOTS joined the NTMA's National Robotics League to be part of the National Competition where students showcase their custom built robots, and compete for top honors.
The reception to the National Robotics League in the educational, manufacturing and technology communities has been overwhelming. What started as a program for middle and high schools has grown to include post secondary schools and institutions. Manufacturing and technology sectors have been impressed with what NRL has done for workforce development, and creating an awareness of Industry that until now was lackluster.
For more information on the RoboBots education program and competition, please visit: gonrl.org